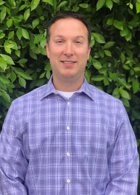 9535 Reseda Blvd., Ste. #100
Northridge, CA 91324
Phone: 818-360-9944
Fax: 818-678-0195
Michael Kendrick, Regional Manager
Notary Public/ Escrow Officer/ Branch Manager
Notary Public/Escrow Officer/ Manager: Michael began his career with Landmark Escrow in 2000 as an assistant and was soon promoted to Escrow Officer. He quickly built the top producing escrow team for Landmark Escrow and has continued to grow with each following year. With his impeccable attention to detail and personal customer service he and his team strive to make each transaction one of the smoothest the clients have experienced. He prides himself on relationships built over the last decade with leader in real estate, lending and title professionals. Michael is consistently up to date with technology, keeping Landmark Escrow on the cutting edge of the industry. As Branch Manager, overseeing all operations of all of Landmark Escrow's current locations he maintains Landmarks reputation throughout Southern California and beyond. When Michael is not in the office he enjoys spending quality time with his wife and two daughters
FULL SERVICE ESCROW PROFESSIONALS
Landmark Escrow is staffed with experienced full service escrow professionals. We utilize top of the line computer programs to aid our escrow processing skills. We accomodate clients of all technological backgrounds by providing hard copy via US Postal Service and digital copies of documents via email. Our high standard of excellence allows us to meet the needs of our individual clients.
OUR SERVICES INCLUDE:
EXPLANATION OF ESCROW
An escrow is an arrangement on which a neutral third party, called an escrow holder, compiles legal documentation, invoices and funds on behalf of the buyer and seller. The escrow agent works closely with you, your real estate agent and lender to ensure that the sale conditions are complied to within the time period called for in the Residential Purchase Agreement and Joint Escrow Instructions. After all parties have executed these documents and complied with all agreements described in the Purchase Contract, escrow then distributes the funds according to the buyer's and seller's instructions.
Both the buyer and the seller rely on the escrow holder to carry out faithfully their mutual agreement instructions relating to the transaction. Escrow holder is bound by law to notify both parties if the instructions given are not mutually consistent or cannot be carried out. These instructions are drawn by the escrow officer, and signed by the buyer and seller. Since the escrow is not as detailed as the Purchase Contract, the information contained in the instructions is intended to direct the Escrow Officer in and inform all other parties as to the specific steps that are to be completed through the escrow instructions.